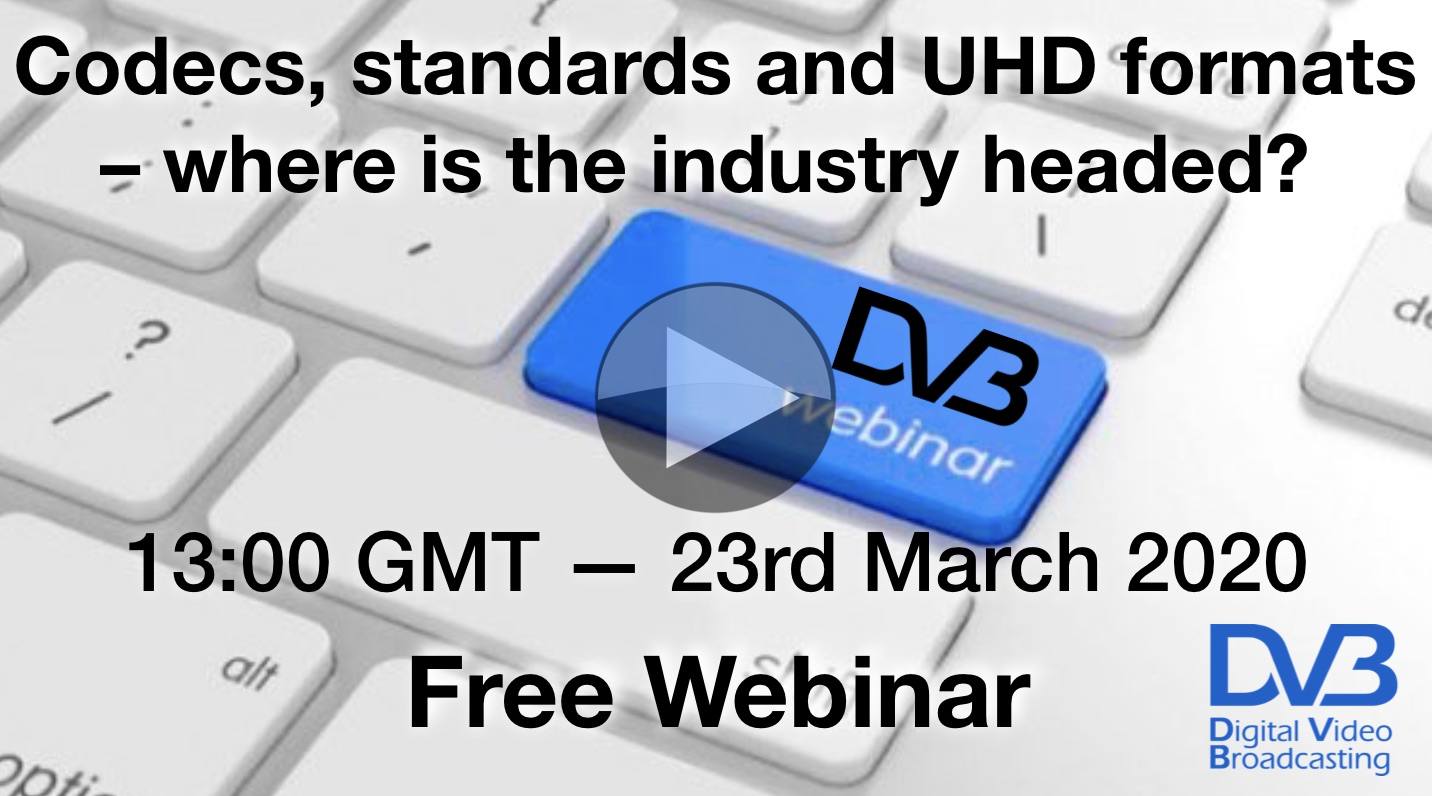 Now Available On Demand
UHD transmissions have been available for many years now and form a growing, albeit slow-growing, percentage of channels available. The fact that major players such as Sky and BT Sports in the UK, NBCUniversal and the ailing DirecTV in the US, see fit to broadcast sports in UHD shows that the technology is trusted and mature. But given the prevalence of 4K in films from Netflix, Apple TV+ streaming is actually the largest delivery mechanism for 4K/UHD video into the home.
Following on from last week's DVB webinar, now available on demand, this webinar from the DVB Project replaces what would have been part of the DVB World 2020 conference and looks at the work that's gone into getting UHD to were it is now in terms of developing HEVC (also known as H.265), integrating it into broadcast standards plus getting manufacturer support. It then finishes by looking at the successor to HEVC – VVC (Versatile Video Codec)
The host, Ben Swchwarz from the Ultra HD Forum, first introduces Ralf Schaefer who explores the work that was done in order to make UHD for distribution a reality. He'll do this by looking at the specifications and standards that were created in order to get us where we are today before looking ahead to see what may come next.
Yvonne Thomas from the UK's Digital TV Group is next and will follow on from Ben by looking at codecs for video and audio. HEVC is seen as the go-to codec for UHD distribution. As the uncompressed bitrate for UHD is often 12Gbps, HEVC's higher compression ratio compared to AVC and relatively wide adoption makes it a good choice for wide dissemination of a signal. But UHD is more than just video. With UHD and 4K services usually carrying sports or films, 'next generation audio' is really important. Yvonne looks at the video and audio aspects of delivering HEVC and the devices that need to receive it.
Finally we look at VVC, also known as H.266, the successor to HEVC, also known as H.265. ATEME's Sassan Pejhan gives us a look into why VVC was created, where it currently is within MPEG standardisation and what it aims to achieve in terms of compression. VVC has been covered previously on The Broadcast Knowledge in dedicated talks such as 'VVC, EVC, LCEVC, WTF?', 'VVC Standard on the Final Stretch', and AV1/VVC Update.
Watch now!
Speakers
Ben Schwarz
Communication Working Group Chair,
Ultra HD Forum
Ralf Schaefer
VP Standards R&I
InterDigital Inc.
Yvonne Thomas
Strategic Technologist
DTG (Digital TV Group)
Sassan Pejhan
VP Technology,
ATEME