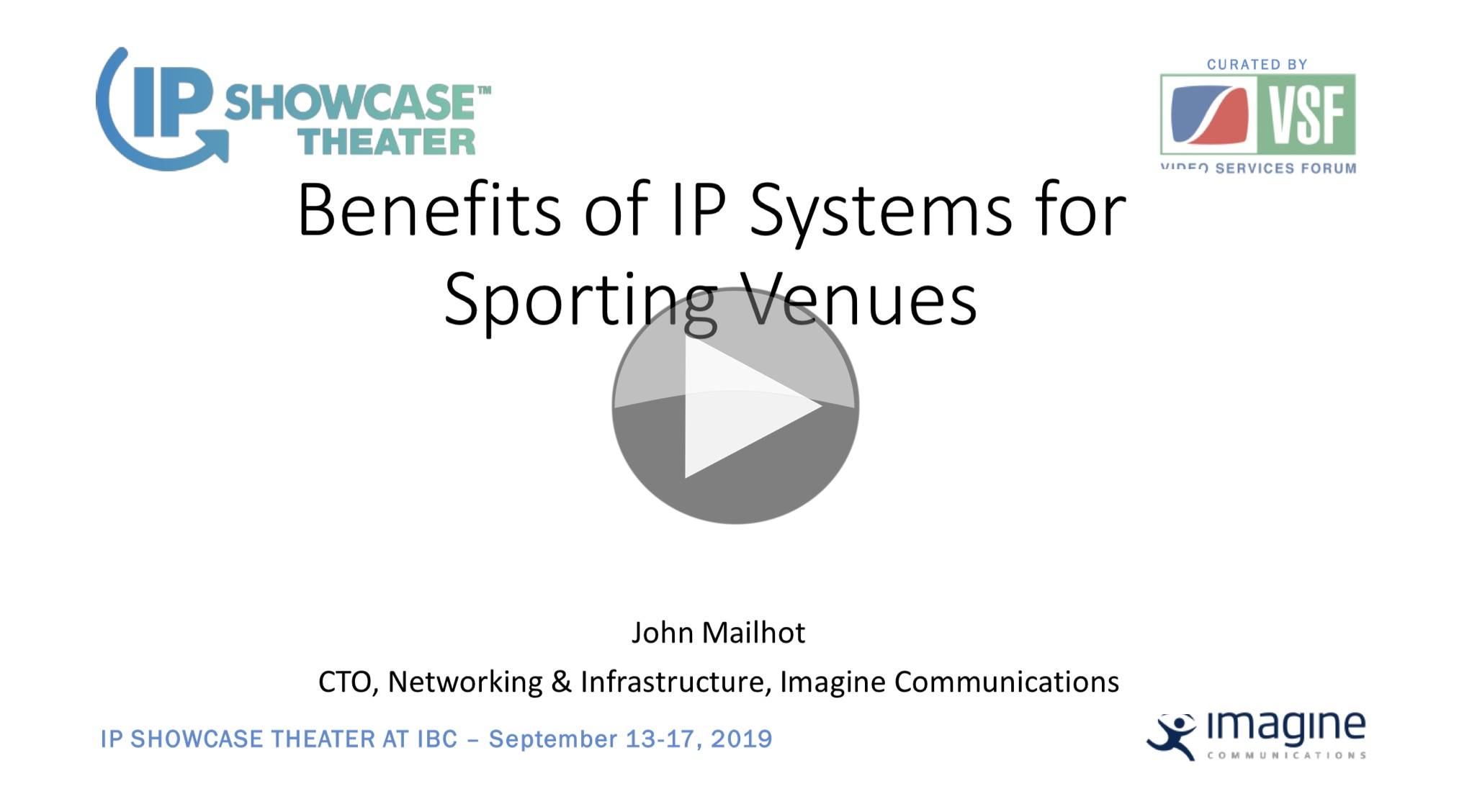 As you walk around any exhibitions there seems to be a myriad of 'benefits' of IP working, many of which don't resonate for particular use cases. Only the most extraordinary businesses need all of the benefits, so in this talk, Imagine Communication's John Mailhot discusses how IP helps sports venues.
John sets the scene by separating out the function of OB trucks and the 'inside production' facilities which have a whole host of non-TV production to do including driving scoreboards, displays inside the venue, replays and importantly has to deal with over 250 events a year, not all of which will have an OB truck.
We see that the scale that IP can work at is a great benefit as many signals can fit down one fibre and 2022-7 seamless switching can easily provide full redundancy for every fibre and SFP. This is a level of redundancy which is simply not seen in SDI systems. With stadia being very large, necessitating cable runs of over 500m, the fact that IP needs fewer cables overall is a great benefit.
John shows an example of an Arista switch only 7U in height which provides 144x 100G ports meaning it could support over 4000 inputs and 4000 outputs. Such density is unprecedented and for OB trucks can be a dealbreaker. For sports venues, this can also be a big motivator but also allow more flexibility in distributing the solution rather than relying on a massive central interconnect with a 1100×1100 SDI router in a central CTA.
TV is nothing without audio and the benefits to audio in 2110 are non trivial since with the audio being split off from the video, we are no longer limited to dealing with just 16 channels per video and de-embedding from a video frame any time we want to touch it.
Timing is an interesting benefit. I say this because, whilst PTP can end up being quite complex compared to black and burst, it has some big benefits. First off, it can live in the same cables as your data where as black and burst requires a whole separate cable infrastructure. PTP also allows you to timestamp all essences which helps with lip-sync throughout your workflow.
John leads us through some examples of how this works for different areas finishing by summing up the relevant benefits such as scalability, multi-format, space efficient, and timing amongst others.
Watch now!
Download the slides
Speakers
John Mailhot
CTO, Networking & Infrastructure,
Imagine Communications