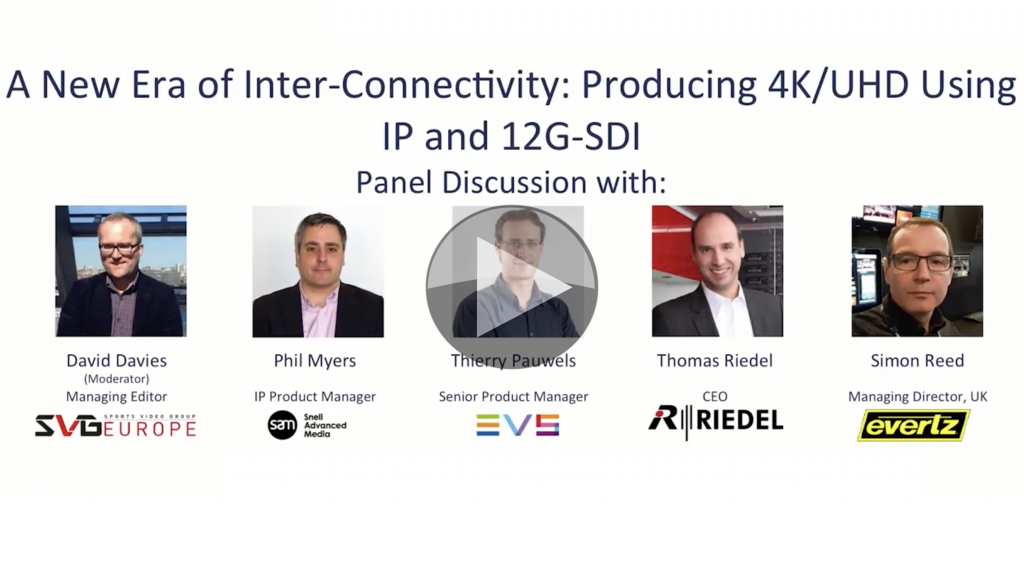 Held a couple of months before SMPTE 2110 was ratified at IBC, this panel discussion with Riedel, Evertz, EVS and Grass Valley looks at the state of SDI and IP: Which technologies are relevant now and which will win in the long run?
The conversation covers these topics and more:
12G Vs 3G SDI
Versions of UHD SDI
When should a vendor implement IP?
Will the future include compression?
How do you handle variable latencies with compression?
With the first all-IP and 12G-SDI OB trucks beginning to hit the road, and an increasing number of broadcast centres implementing comprehensive IP-based or hybrid infrastructures, this discussion will focus on the issue of connectivity and whether it is advantageous to use SDI or IP infrastructures – or indeed hybrid approaches utilising both. This panel discussion discussed the imperatives behind this dramatic technological change, the challenges that it presents, and the probable roadmap for the next few years. There will also be analysis of current industry initiatives such as AIMS and the ways in which these can help smooth the transition.
This Panel was part of the Broadcast Innovation Day hold by Broadcast Solutions GmbH.
Participants:
Laurent Petit, VP Products, EVS
Simon Reed, Managing Director, Evertz UK
Thomas Riedel, CEO, RIEDEL Communications GmbH & Co. KG
Phil Myers, Former IP Product Manager, Grass Valley (formerly Snell Advanced Media (SAM))
Moderation: David Davies, Managing Editor, SVG Europe