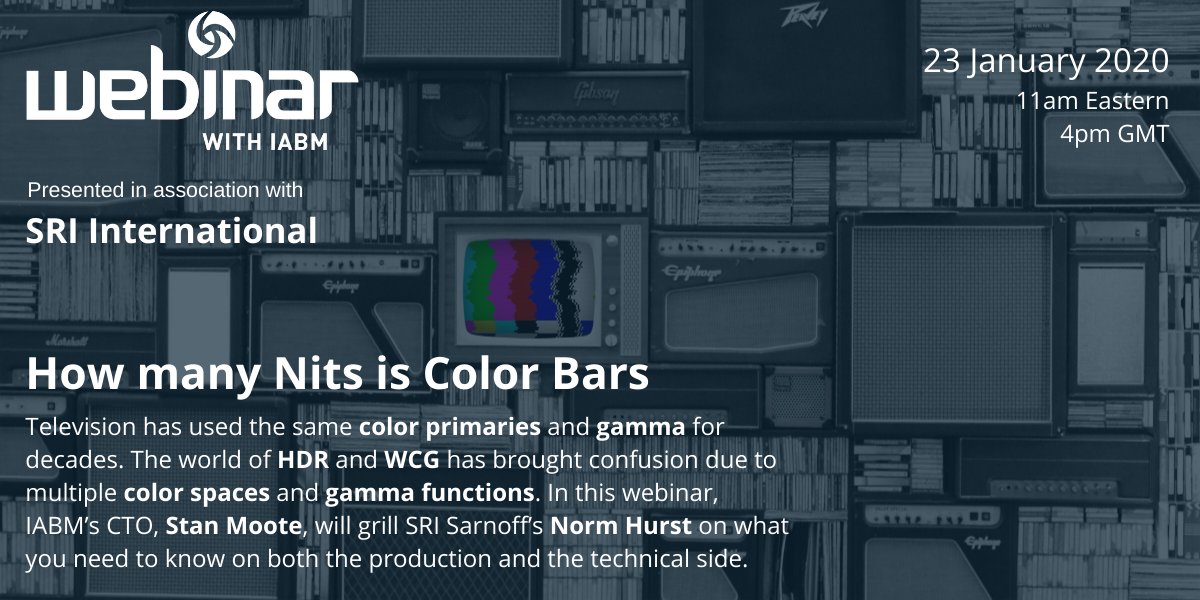 Update: This webinar is now available on-demand. Links in this article have been updated to match.
Brightness, luminance, luma, NITS and candela. What are the differences between these similar terms? If you've not been working closely with displays and video, you may not know but as HDR grows in adoption, it pays to have at least a passing understanding of the terms in use.
Date: Thursday January 23rd – 11am ET / 16:00 GMT
Last week, The Broadcast Knowledge covered the difference between Luma and Luminance in this video from YouTube channel DisplacedGamers. It's a wide ranging video which explains many of the related fundamentals of human vision and analogue video much of which is relevant in this webinar.
To explain the detail of not only what these mean, but also how we use them to set up our displays, the IABM have asked Norm Hurst from SRI, often known as Sarnoff, to come in and discuss his work researching test patterns. SRI make many test patterns which show up how your display is/isn't working and also expose some of the processing that the signal has gone through on its journey before it even got to the display. In many cases these test patterns tell their story without electronic meters or analysers, but when brightness is concerned, there can still be place for photometers, colour analysers and other associated meters.
HDR and its associated Wide Colour Gamut (WCG) bring extra complexity in ensuring your monitor is set up correctly particularly as many monitors can't show some brightness levels and have to do their best to accommodate these requests from the incoming signal. Being able to operationally and academically assess and understand how the display is performing and affecting the video is of prime importance. Similarly colours, as ever, a prone to shifting as they are processed, attenuated and/or clipped.
This free webinar from the IABM is led by CTO Stan Moote.
Watch now!
Speaker
Norm Hurst
Senior Principal Research Engineer,
SRI International SARNOFF
Stan Moote
CTO,
IABM