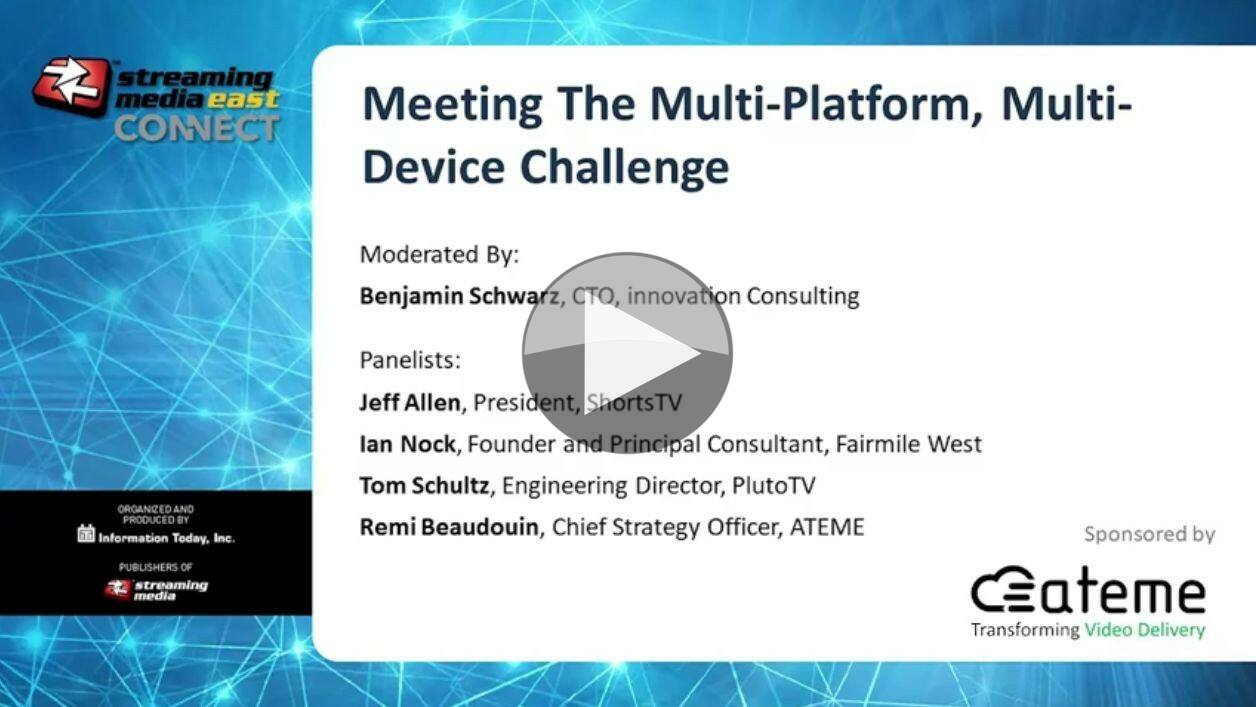 OTT's changed over the last decade going from a technical marvel to a massive market in its own right with significant reach and technical complexity. There are now many ways to 'goto market' and get your content in front of your viewers. Managing the strategy, the preparation & delivery of content, as well as the player ecosystem, is a big challenge under discussion by this Streaming Media panel of experts: Ian Nock from Fairmile West, Remi Beaudouin from Ateme, Pluto TV's Tom Schultz and Jeff Allen from ShortsTV.
Introduced by moderator Ben Schwarz Jeff launches straight into a much-needed list of definitions. Video on demand, VOD, is well-understood subgenres are simultaneously similar and important to differentiate. AVOD means advertising-funded, SVOD is subscription-funded and TVOD, not mentioned in the video, is transactional VOD which is otherwise called Pay TV. As Jeff shows next, if you have an SVOD channel on someone else's platform such as Amazon Prime your strategy may be different, so calling this out separately is useful. A new model has appeared called FAST which stands for 'Free Ad-Supported TV' which is a linear service that is streamed with dynamic ad insertion. To be clear, this is not the same as AVOD since AVOD implies choosing each and every show you want to watch. FAST simulates the feel of a traditional linear TV channel. Lastly, Jeff calls out the usefulness and uniqueness of the social platforms which are rarely a major source of income for larger companies but can form an important part in curating a following and leading viewers to your your services.
Jeff finishes up by explaining some of the differences in strategy for launching in these different ways. For instance, for a traditional linear channel, you would want to make sure you have a large amount of new material but for an ad-supported channel on another platform, you may be much more likely to hold back content. For FAST channels, typically these are more experimentally and niche-branded. Jeff looks at real examples from the History Channel, MTV and AMC before walking through the thinking for his own fictional service.
Next up is Ian Nock who is Chair of the Ultra HD Forum's interoperability working group looking at how to launch a service with next-generation features such as HDR, UHD or high frame rates. He outlines the importance of identifying your customers because by doing that, you can understand the likely device population in your market, their average network performance and the prevalence of software versions. These are all big factors in understanding how you might be able to deliver your content and the technologies you can choose from to do so. For UHD, codec choice is an important part of delivery as well as the display format such as HDR10, HDR10+ etc. Ian also talks about needing a 'content factory' to seamlessly transcode assets into and out of next-generation formats remembering that for each UHD/HDR viewer, you're still likely to have 10 who need SDR. Ian finishes off by discussing the delivery of higher frame rates and the importance of next generation audio.
Wrapping up the video is Ateme's Remi raising discussion points on the continuing need for balance between active and passive TV, the lack of customisation of TV services, increasing sensitivities on the part of both the customer and streaming providers around sharing analytics and the need to find a way to make streaming more environmentally friendly. Lastly, Tom talks about how PlutoTV is a a service which is very much based on data and though privacy is upheld as very important, decisions are very quantitative. He's seen that, over the past year, usage patterns have changed for instance the move from mobiles to second screens (i.e. tablets). Delivering DRM to many different platforms is a challenge but he's focused on ensuring there is zero friction for customers since it's an AVOD service, it's vitally important to use the analytics to identify problems, to ensure channel changes are fast and to have end-to-end playback traceability.
Watch now!
Speakers
Tom Schultz
Director of Engineering – Native Apps
Pluto TV
Ian Nock
Founder & Principal Consultant,
Fairmile West
Jeff Allen
President,
ShortsTV
Remi Beaudouin
Chief strategy Officer
ATEME
Moderator:Ben Schwarz
CTO,
innovation Consulting