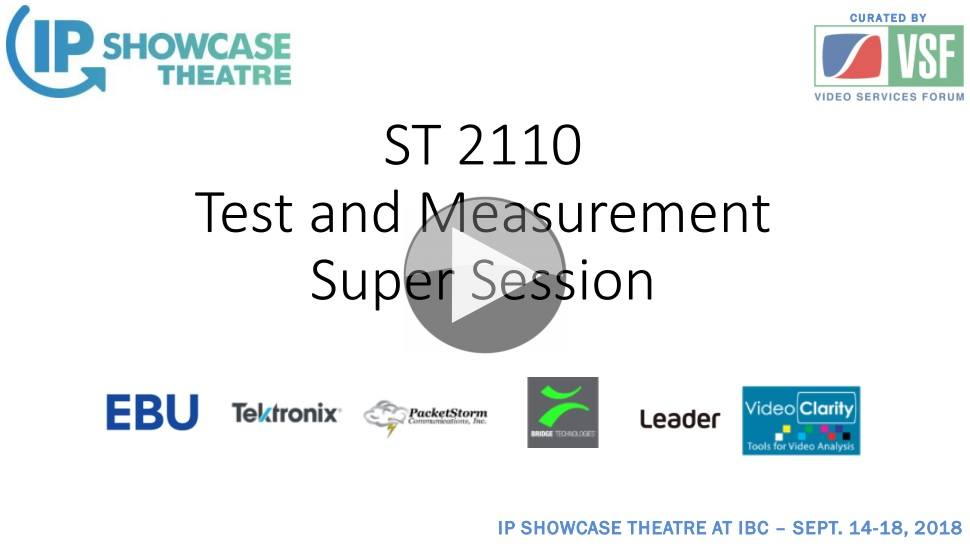 This IP Showcase super session consists of six presentation from six different vendors which focus on specific aspects of test or measurement that is unique for ST 2110 environment. It is worth noting that these are technology presentations, not product presentations.
The session is led by Willem Vermost from EBU. He describes what kind of issues we need to solve in a SMPTE ST 2110 environment in terms of testing and monitoring. He speaks about PTP accuracy, traffic shaping (SMPTE ST 2110-21) and SMPTE ST 2022-7 redundancy.
Next, Michael Waidson from Tektronix focuses on Precision Time Protocol (PTP) which is a cornerstone of synchronisation of IP media networks. He walks us through Best Master Clock algorithm, boundary and transparent clocks plus PTP fault finding. (You might also want to watch the Monitoring and Measuring IP Media Networks presentation by Michael which we recently published on The Broadcast Knowledge.)
Furthermore, Jack Douglass from PacketStorm talks about ST 2110-21 traffic shaping measurements. He also shows how to use network emulation tools for testing ST 2022-7 link redundancy (the same data is sent through two separate paths of network emulation that are synchronised together, then burst loss are generated using RTP sequence number, with the least important bit different on both paths).
The next speaker is Ståle Kristoffersen from Bridge Technologies. He focuses on live performance monitoring in a ST 2110 network – does the signal make sense? (IP headers, RTP headers, ST 2110-20/30/40 essences), do all of the signals arrive? (packet loss, monitoring packet loss on 2022-7 links), does the signal arrive on time? (late can be just as bad as a packet loss) amongst others.
Moreover, Kevin Salvidge from Leader shows the differences in monitoring in an SDI and an all-IP facility. He compares single essence per BNC with multiple essences per fibre, synchronous and asynchronous transport and causes for errors (cable loss and impedance mismatch vs error packet loss and network overload). He also emphasises the need for accuracy of PTP and explains how to measure it.
Last but not least, Adam Schadle from Video Clarity walk us through video / audio performance and quality methods. He shows how to use picture and sound quality objective tests to understand network behaviour.
The presentations are followed by Q&A session.
See the slides here.
Speakers
Willem Vermost
Senior IP Media Technology Architect
EBU
Michael Waidson
Application Engineer
Tektronix
Jack Douglass
VP Marketing and Business Development
PacketStorm
Ståle Kristoffersen
Lead Software Developer
Bridge Technologies
Kevin Salvidge
European Regional Development Manager
Leader
Adam Schadle
Vice President
Video Clarity