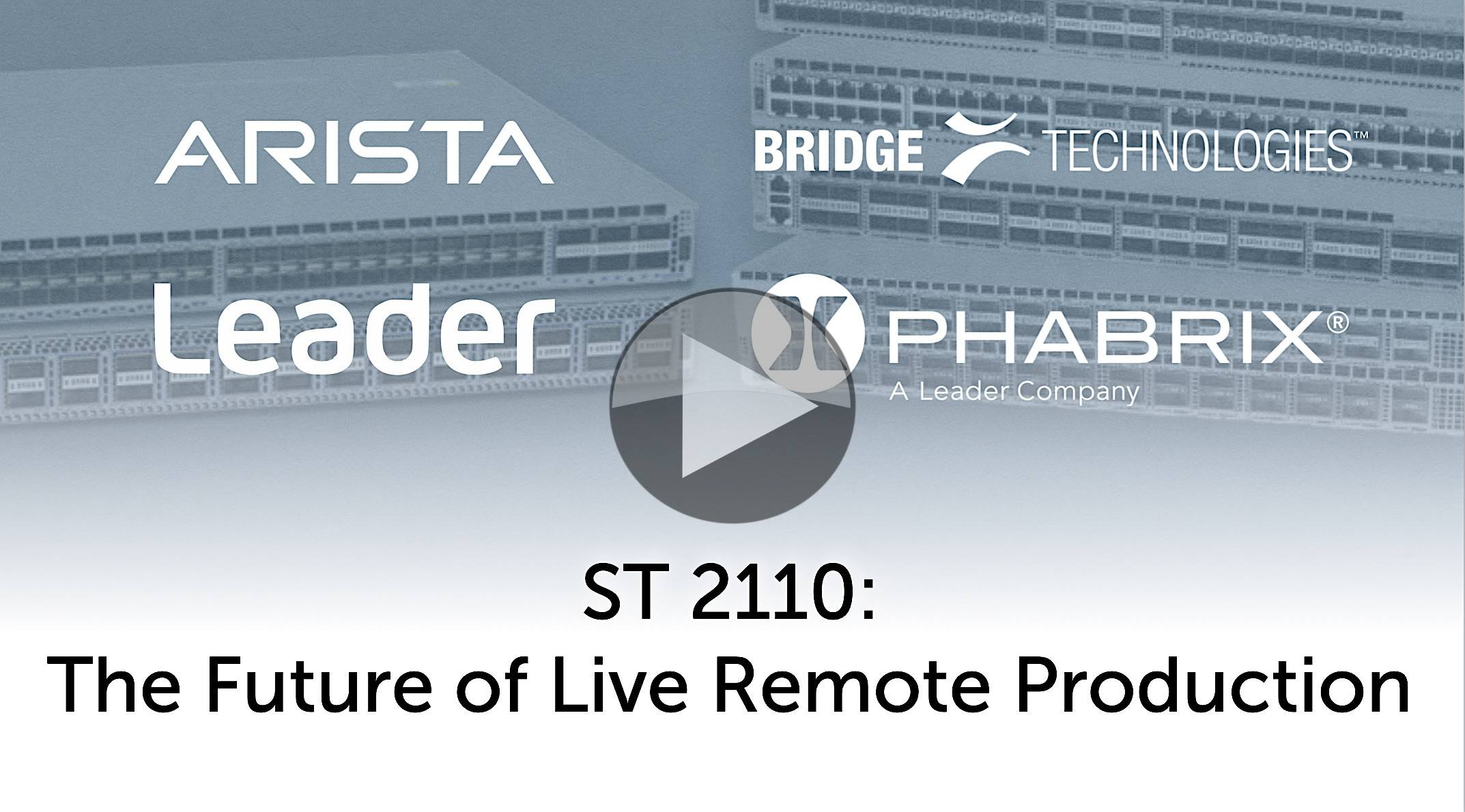 Trying to apply the SMPTE ST 2110 hype to the reality of your equipment? This video is here to help. There are many 'benefits' of IP which are banded about yet it's almost impossible to realise them all in one company. For the early adopters, there's usually one benefit that has been the deal-breaker with other benefits helping boost confidence. Smaller broadcast companies, however, can struggle to get the scale needed for cost savings, don't require as much flexibility and can't justify the scalability. But as switches get cheaper and ST 2110 support continues to mature, it's clear that we're beyond the early adopter phase.
This panel gives context to ST 2110 and advises on ways to 'get started' and skill up. Moderated by Ken Kerschbaumer from the Sports Video Group, Leader's Steve Holmes, Prinyar Boon from Phabrix join the panel with Arista colleagues Gerard Phillips and Robert Welch and Bridge Technologies' Chairman Simen Frostad.
The panel quickly starts giving advice. Under the mantra 'no packet left behind', Gerard explains that, to him, COTS (Commercial Off The Shelf) means a move to enterprise-grade switches 'if you want to sleep at night'. Compared to SDI, the move to IT can bring cost savings but don't skimp on your switch infrastructure if you want a good quality product. Simen was pleased to welcome 2110 as he appreciated the almost instant transmission that analogue gave. The move to digital added a lot of latency, even in the SDI portions of the chain thanks to frame syncs. ST 2110, he says, allows us to get back, most of the way, to no-latency production. He's also pleased to bid good-bye to embedded data.
It is possible to start small, is the reassuring message next from the panel. The trick here is to start with an island of 2110 and do your learning there. Prinyar lifts up a tote bag saying he has a 2110 system he can fit in there which takes just 10 minutes to get up and running. With two switches, a couple of PTP grandmasters and some 2110 sources, you have what you need to start a small system. There is free software that can help you learn about it, Easy NMOS is a quick-to-deploy NMOS repository that will give you the basics to get your system up and running. You can test NMOS APIs for free with AMWA's testing tool. The EBU's LIST project is a suite of software tools that help to inspect, measure and visualize the state of IP-based networks and the high-bitrate media traffic they carry and there's is also SDPoker which lets you test ST 2110 SDP files. So whilst there are some upfront costs, to get the learning, experience and understanding you need to make decisions on your ST 2110 trajectory, it's cost-effective and can form part of your staging/test system should you decide to proceed with a project.
The key here is to find your island project. For larger broadcasters or OB companies, a great island is to build an IP OB truck. IP has some big benefits for OB Trucks as we heard in this webinar, such as weight reduction, integration with remote production workflows and scalability to 'any size' of event. Few other 'islands' are able to benefit in so many ways, but a new self-op studio or small control room may be just the project for learning how to design, install, troubleshoot and maintain a 2110 system. Prinyar cautions that 2110 shouldn't be just about moving an SDI workflow into IP. The justification should be about improving workflows.
Remote control is big motivator for the move to ST 2110. Far before the pandemic, Discovery chose 2110 for their Eurosport production infrastructure allowing them to centralise into two European locations all equipment controlled in production centres in countries around Europe. During the pandemic, we've seen the ability to create new connections without having to physically install new SDI is incredibly useful. Off the back of remote control of resources, some companies are finding they are able to use operators from locations where the hourly rate is low.
Before a Q&A, the panel addresses training. From one quarter we hear that ensuring your home networking knowledge is sound (DHCP, basic IP address details) is a great start and that you can get across the knowledge needed very little time. Prinyar says that he took advantage of a SMPTE Virtual Classroom course teaching the CCNA, whilst Robert from Arista says that there's a lot in the CCNA that's not very relevant. The Q&A covers 2110 over WAN, security, hardware life cycles and the reducing carbon footprint of production.
Watch now!
Speakers
Steve Holmes
Applications Engineer,
Leader
Prinyar Boon
Product Manager,
PHABRIX
Gerard Phillips
Systems Engineer,
Arista
Simen Frostad
Chairman,
Bridge Technologies
Robert Welch
Technical Solutions Lead,
Arista
Moderator: Ken Kerschbaumer
Chair & Editorial Directo,
Sports Video Group