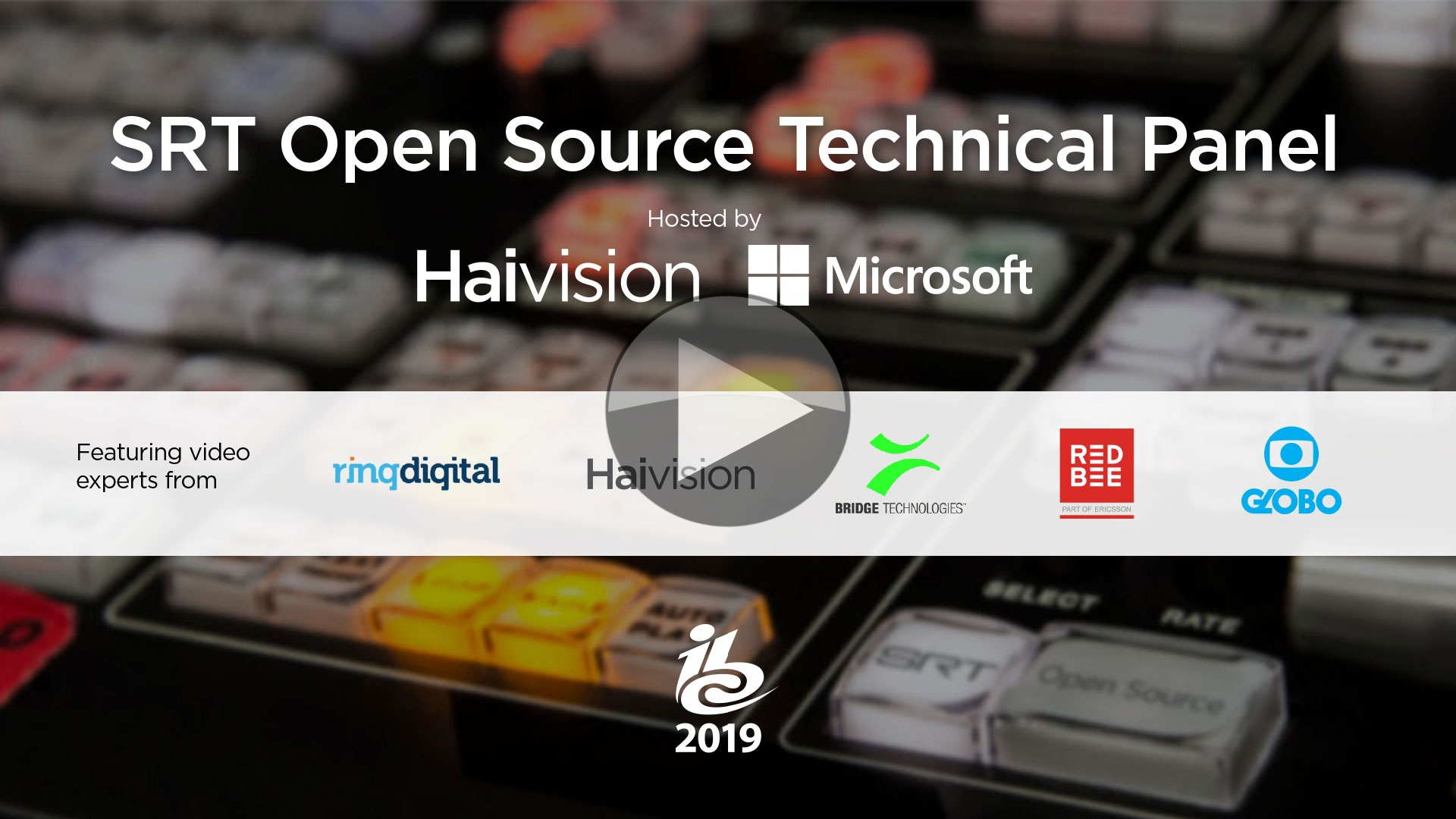 SRT allows unreliable networks like the Internet to be used for reliable, encrypted video contribution. Created by Haivision and now an Open Source technology, the alliance of SRT users continues to grow as the technology continues to develop and add features. This panel, from IBC 2019, is an update on what's new with SRT and how it's being used daily in broadcast.
Marc Cymontowski starts with an overview of the new features of SRT, mentioning its active Github repository, pointing to recent advances in the encryption available, upcoming FEC and the beginnings of SMPTE ST 2022-7 like redundancy. He also takes a look at how SRT fares against RTMP, the venerable incumbent technology for contribution of streams over the internet. Official support for RTMP will be coming to an end next year, so there is much interest in what may replace it. Marc makes the case that for the same link, SRT tends to have a latency of a half to a third and also performs better at higher bitrates.
RTP, the Real-Time Transport Protocol, is an important feature when it comes to redundancy. By using RTP's ability to stamp each packet, the receiver can take two identical RTP streams – say from two separate ISPs and fill in missing packets on one stream from the packets of the other stream. This is a very powerful way of ensuring reliability over the internet so Marc makes the point that using SRT doesn't stop you using RTP.
Simen Frostad then takes to the stage to explain why Bridge Technologies has added SRT support and how the SRT Hub will be a very important step forward. Then it's Leonardo Chaves' turn who explains how broadcaster Globo is using SRT to transform its video workflows and reduce OPEX costs to one third satellite costs.
Steve Russell from Red Bee talks about how they use SRT to create new, or lower cost, circuits and services to their customers. They're able to use the internet not only for contribution from events but also to safely get video in and out of the cloud.
With these use-cases in mind, the panel opens up to thirty minutes of wide-ranging technical and non-technical questions.
Watch Free Now!
Free registration required
Speakers
Brian Ring
SRT Evangelist,
Ring Digital
Simen Frostad
Chairman & Co-Founder
Bridge Technologies
Steve Russell
Head of OTT & Media Management Portfolios,
Red Bee Media
Marc Cymontkowski
VP Engineering,
Haivision
Leonardo Chaves
Exec. Manager of New Transmission Technologies,
Globo