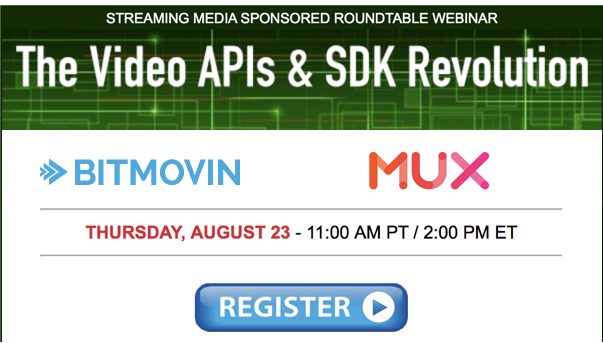 Date: Thursday August 23rd 2018, 11am PT / 2pm ET / 19:00 BST
Streaming Media are back with Bitmovin and MUX to talk about APIs.
After all, more APIs and SDKs than ever are available to developers, and they're getting smarter—allowing businesses to advance their video development at a more rapid pace. APIs simplify everything from payment processing to content management, and SDKs allow for heretofore unheard-of customization for everything from formats and delivery protocols to player controls and features.
Learn how to leverage APIs and SDKs to grow your video business fast, as they dive into these issues:
How developers can use APIs and SDKs to build highly customized video streaming platforms, instead of relying on out-of-the-box OVPs
The implications and challenges of the APIs & SDK revolution for enterprise engineering teams
Best practices for relying on third-party APIs: testing, monitoring, etc.
What developers need to know about the video infrastructure layer
How to decide which video API fits your needs
What resources exist to help broadcast engineers, as well as "traditional" software engineers, advance their video development skills.
Moderator

Eric Schumacher-Rasmussen
VP / Editor
Streaming Media

Presenter

Reinhard Grandl
Head of Product
Bitmovin

Presenter

Justin Sanford
Product Manager
MUX