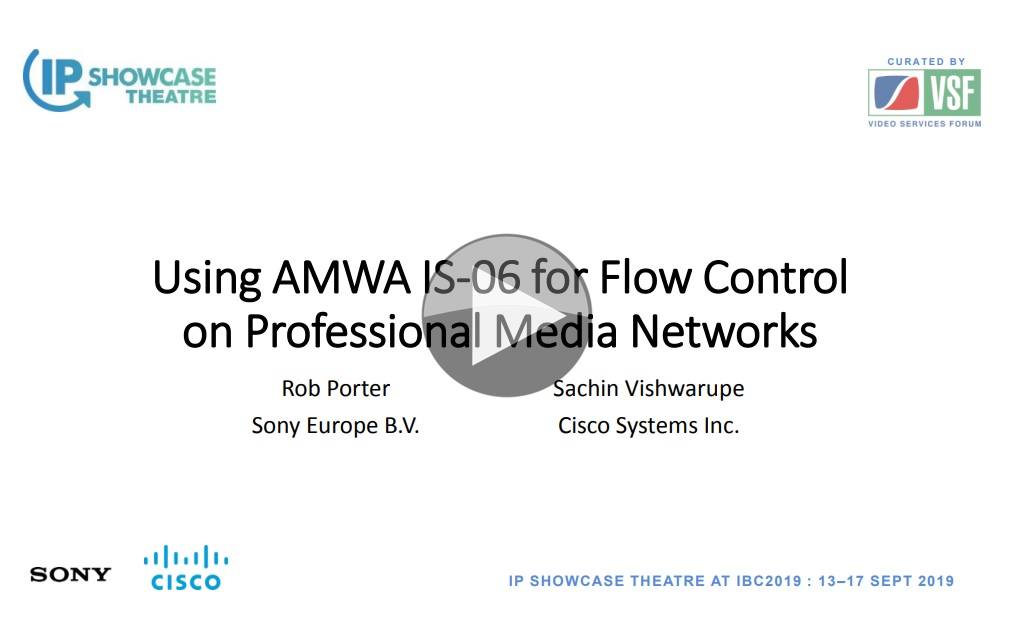 In IP networks multicast flow subscription is usually based on a combination of IGMP (Internet Group Management Protocol) and PIM (Protocol Independent Multicast) protocols. While PIM allows for very efficient delivery of IP multicast data, it doesn't provide bandwidth control or device authorisation.
To solve these issues on SMPTE ST 2110 professional media networks the NMOS IS-06 specification has been developed. It relies on a Software-Defined Networking, where traffic management application embedded in each single switch or router is replaced by a centralised Network Controller. This controller manages and monitors the whole network environment, making it bandwidth aware.
NMOS IS-06 specification provides a vendor agnostic Northbound interface from Network Controller to Broadcast Controller. IS-06 in conjunction with IS-04 (Discovery and Registration) and IS-05 (NMOS Device Connection Management) allows Broadcast Controller to automatically set up media flows between endpoints on the network, reserve bandwidth for flows and enforce network security. Broadcast Controller is also able to request network topology information from Network Controller, which can be used to create a user friendly graphic representation of the flows in the network.
In this presentation Rob Porter from Sony Europe explains the basics of NMOS IS-06, showing in details how setting up media flows with this specification fits into the IS-04 / IS-05 workflow. Rob emphasise that all AMWA NMOS specifications are completely open and available to anyone, allowing for interoperability between broadcast and network devices from different manufacturers.
The next speaker, Sachin Vishwarupe from Cisco Systems, focuses on the future works on IS-06, including provisioning feedback (such as insufficient bandwidth, no route available from sender to receiver or no management connectivity), flow statistics, security and grouping (similar to "salvo" in SDI world).
There is also a discussion on extension of IS-06 specification for Network Address Translation (NAT), which would help to resolve problems caused by address conflicts e.g. when sharing resources between facilities.
You can find the slides here.
Speakers
Rob Porter
Project Manager – Advanced Technology Team
Sony Europe
Sachin Vishwarupe
Principal Engineer
Cisco Systems