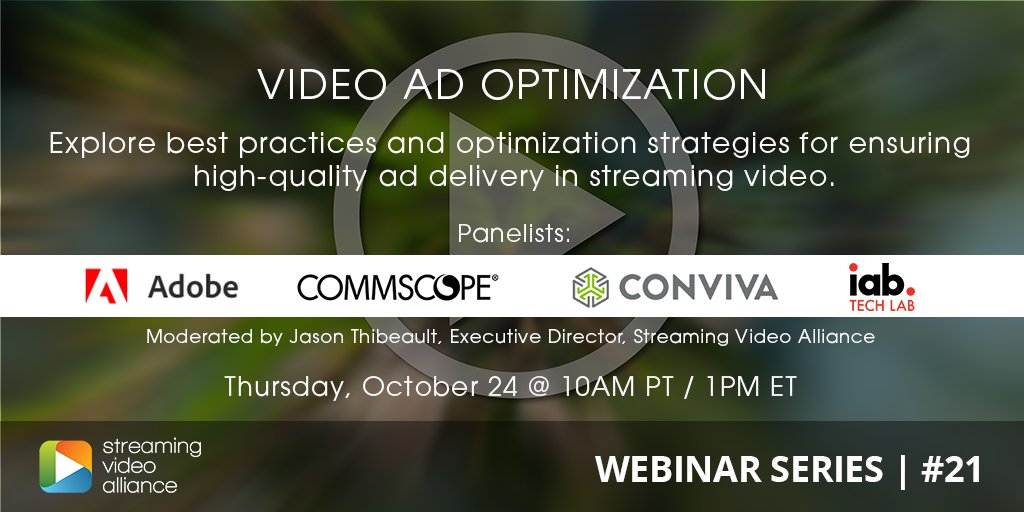 Date: 24th October, 2019 Time: 10am PST / 1pm EDT / 18:00 GMT
If there's one thing that's been clear throughout all the years of streaming video on the internet, it's that if the viewer doesn't have a good time, it's literally a big turn-off. If you're going to show ads, show them well otherwise it can make for a terrible experience. Problems with ads undermine trust in an otherwise great service.
This is the topic under the spotlight in this webinar from the Streaming Video Alliance which brings together CommScope (previously ARRIS), IAB Tech Labs, Adobe and Conviva to discuss the best practices for getting ads right examining how to deliver them and ways to insert them.
Speakers
Dave Romrell
Engineering Fellow, Advance Research Group,
CommScope (previously ARRIS)
Chris Hock
Head of Business Strategy and Development, Media & Entertainment, Adobe
Advertising Working Group Co-Chair, Streaming Video Alliance
Sean Wilkinson
Head of Corporate Development,
Conviva
Amit Shetty
Senior Director, Video & Audio Products,
IAB
Jason Thibeault
Executive Director,
Streaming Video Alliance