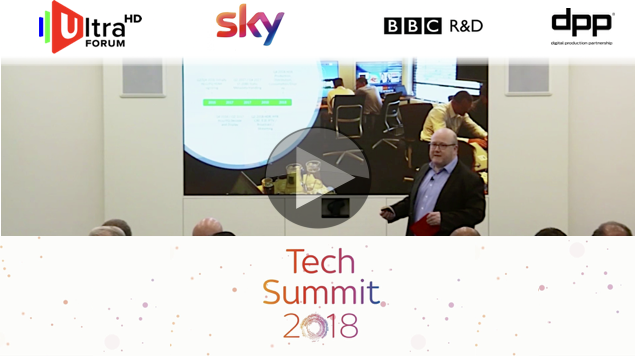 From Sky's 2018 Tech Summit, we hear from across the industry about the activities the industry is engaged in to improve television and move it into the future.
Chris Johns, from Sky, starts by walking us through the current advances in TV; delivery methods, choice, and advances in video and audio.
Ian Nock from the UltraHD Forum, gives us the low-down on where UHD displays are heading, the inter-op work being spearheaded by the UHD Forum and specifications being agreed to bring technologies like HDR and Dolby Atmos into our homes.
Carys Hughes from Sky, explains her work ensuring that lip sync keeps pace with recent technology and remains at 0ms.
Phil Layton from BBC R&D takes us through the live UHD events the BBC has been doing, showing us how they have been steaming live.
Gill Reston also explains what the DPP has been doing in the industry particularly with IMF.
Speakers
Chris Johns
Chief Engineer, Broadcast Strategy,
Sky UK
Ian Nock
Chair of the Ultra HD Forum Interop-WG
Founder of Fairmile West
Carys Hughes
Design Engineer (Emerging Technologies)
Sky
Phil Layton
Head of Broadcast & Connected Systems,
BBC Research & Development
Jill Reston
Senior Project Manager,
DPP