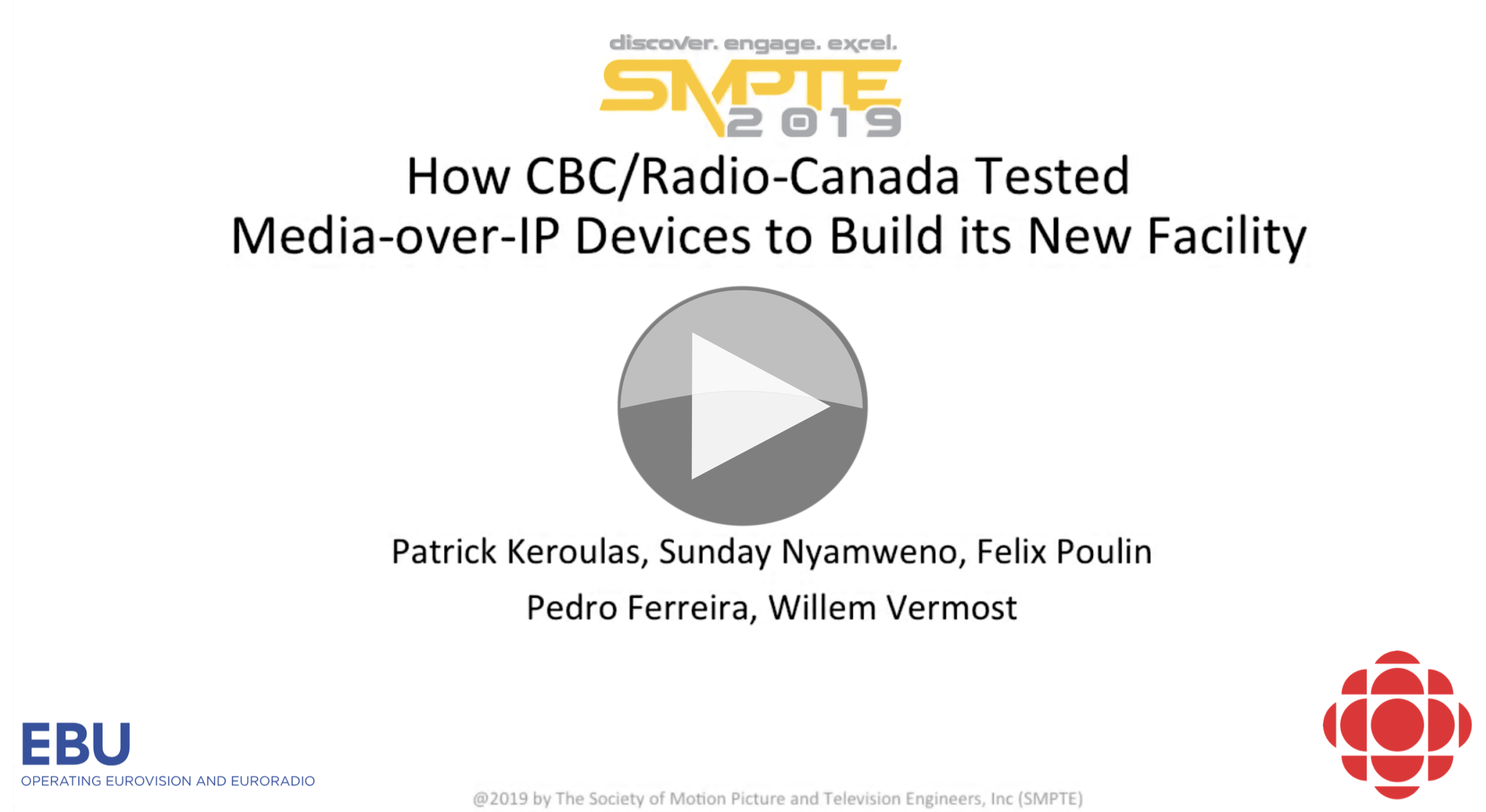 Moving video production to IP has been ongoing for over 5 years using both SMPTE ST 2022-6 and now ST-2110 but we're still in the 'Early Adopter' phase, explains the Willem Vermost speaking at SMPTE 2019. Willem is the EBU topic lead for the transition to IP-based studios and he is tracking the upcoming projects with public broadcasters.
Willem talks about what's motivating these Early Adopters. In general, he explains, they have a building move project and they are faced, as CBC (Canadian Broadcasting Corporation) was, with being the last to install an extensive SDI infrastructure – and be stuck with that for 7, 10 or more years to come – or the to be one of the first to use IP. Increasingly, they can't justify the SDI workflow and IP, for all its risks and uncertainties, is the way forward.
CBC/Radio Canada needs to be 'on air' in 2020 so they put in a place a risk mitigation plan to test all the equipment before putting it in. Willem outlines what this test plan looks like and what it covers: AES67, ST 2110-40,-7, -30-, -20, EBU r148 security etc. Testing was also brought up by the BBC's Mark Patrick when he discussed his work in bring in the BBC's Cardiff Square building on-air. They found that automated testing was key in project delivery so that testing was quick and consistent to ensure that software/firmware patches were correctly accepted into the project.
Willem talks us through the EBU's famous Technology Pyramid which shows to what extent each of the technologies on which media-over-IP requires has been defined and adopted by the industry. It shows that while the media aspect has been successfully deployed, there is a lot to do in, for example, security.
Difficulties arose due to different interpretations of standards. To aid in diagnosis of such issues, the LIST project has created a 2110 analysis tool and other related tools. This is created within the EBU and Willem highlights some key parts of what it does. He then shows how that connects in with the automated test programs and explains the underlying structure of how the software is built.
The talk finishes with mention of the JT-NM test plan, a summary and questions lead by Arista's Gerard Phillips.
Watch now!
Speakers
Willem Vermost
Senior IP Media Technology Architect
Topic Lead, Transition to IP-based Studios
EBU
Moderator: Gerard Phillips
Systems Engineer,
Arista