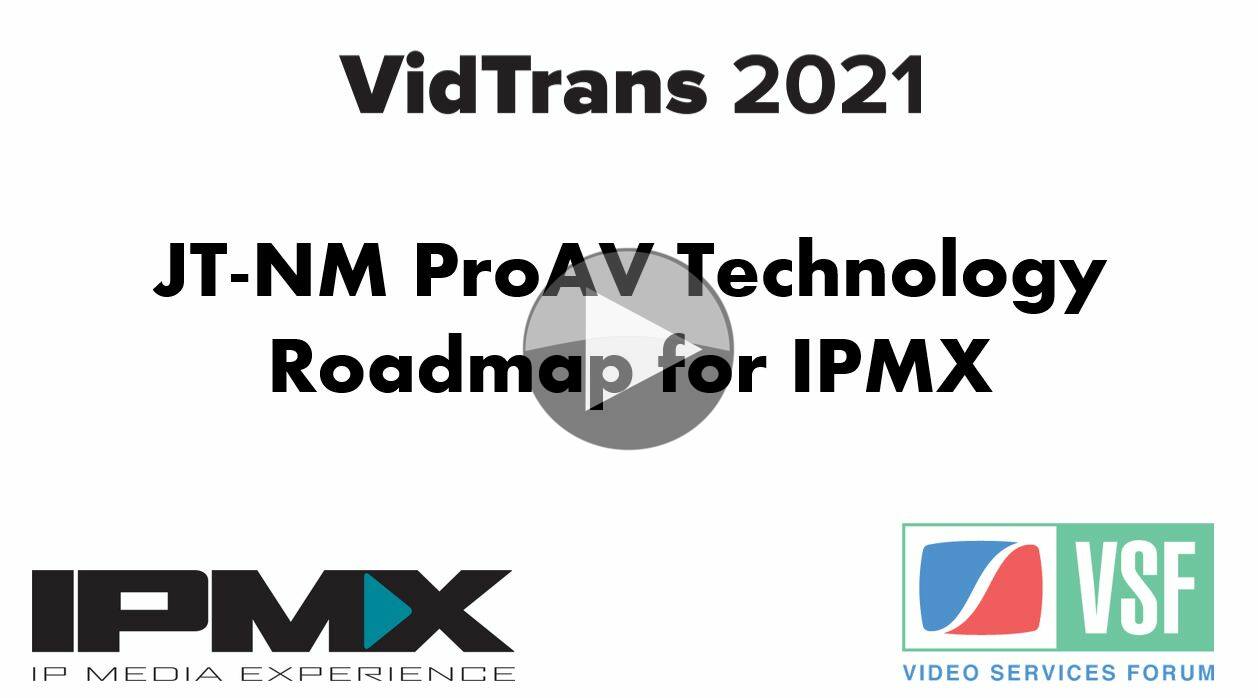 Building on our coverage of IPMX to date, we see that this push to create a standard for IP for the ProAV market has been growing in momentum. With activity now in AIMS, AMWA, VSF and SMPTE, it's important to bring together the thinking and have a central strategy which is why the JT-NM have released a roadmap. This has started by defining what is meant by ProAV: "The market for audiovisual (AV) communication equipment used in professional, industrial, commercial, and retail environments as a means to communicate with people." As is noted by today's panel, this is a wide definition and helps us understand why this is such a different proposition compared to the related ST 2110 and NMOS work for the broadcast market. There are lots of silos in the Pro AV space with many solutions being developed to cater to just one or two. This makes requirements capture difficult and has led to the fragmentation seen to date and partly why strong manufactures tend to be the ones pushing the market in a certain direction in contrast to the broadcast market where strong, early adopters set the direction for vendors.
The roadmap itself sets the aims of IPMX, of instance that is secure from the start, it will scale and integrate with 2110/AMWA broadcast installations and be able to be a software only solution. Phase 1 of the roadmap identifies existing standards and specifications which underpin the three IPMX tenents of security, Media, Control. Identified are NMOS IS-10 for access authentication and encryption, relevant 2110 standards, NMOS IS-04,-05, -07 and capabilities to use EDIDs. Phase 2 then adds HDCP support, support for ProAV audio formats, enhanced control such as for audio mapping (IS-08), legacy camera control via RS-232 etc. and then phase 3 will bring in media compression for WAN links, error correction techniques and closed captioning & subtitling. For control, it will add USB HID and a training and certification scheme will be launched.
The panel concludes discussing how IPMX is very much at home with live production which, of course, should help it dovetail well into the broadcast space. IPMX is seen by the panel to simplify the implementation of a 2110-like infrastructure which should allow easier and quicker installations than 2110 which are seen as larger, higher risk projects. IPMX could, it's suggested, be used as an initial step into IP for broadcasters who seek to understand what they need to do organizationally and technically to adopt IP ahead of perhaps developing 2110 systems. But the technology is seen as going both ways allowing broadcasters to more readily adopt compressed workflows (whether JPEG XS or otherwise) and allow Pro AV players to bring uncompressed workflows more easily into their productions for those that would benefit.
Watch now!
Speakers
Karl Paulsen
CTO,
Diversified
Andrew Starks
Director of Product Management,
Macnica America's Inc.
David Chiappini
Chair, Pro AV Working Group, AIMS
Executive Vice President, Research & Development,
Matrox Graphics Inc.
Richard Friedel
Executive Vice President, Technology & Broadcast Strategy,
21st Century Fox