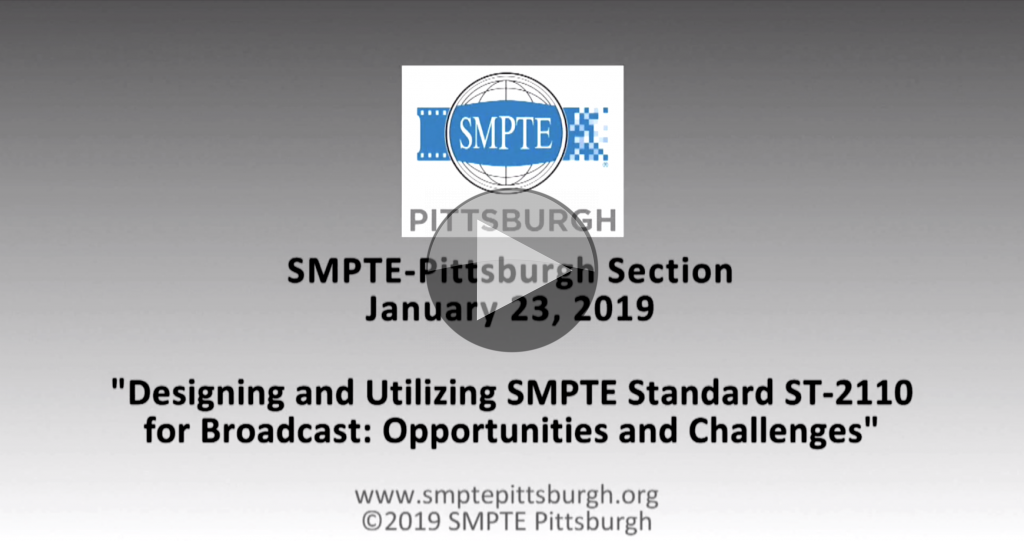 A meeting of experienced minds here at the Pittsburgh SMPTE section talking about the opportunities and challenges of ST-2110. Phil Myers from Lawo talks optimistically about the challenges that can and often have been solved in implementing 2110 whether that be network infrastructure or timing, giving a good primer on the whole topic as he starts the session.
Hugo Gaggioni from Sony, talks about NMOS, explaining what AMWA does and the difference between their IS-04,05 and 06 specifications.
Karl Kuhn from Tektronix then discusses packet pacing, PTP and network architectures. He then looks at how to monitor PTP and see it is working well.
With the panel session at the end, joined by Dan Turk from NEP, there is a free-ranging discussion covering some of the following topics:
Control of IP networks
The limits of IP
Multicast traffic
Network Architecture
True non-blocking switches
Break-even points of IP systems
Split essences & dropping blanking
Network planning for UHD
Handling loss of network on PTP implementations
plus much more!
Speakers
Phil Myers
Senior Director, IP Systems,
Lawo
Karl Kuhn
Senior Field Video Applications Engineer,
Tektronix
Hugo Gaggioni
CTO, Broadcast and Production Systems Division
Sony
Dan Turk
Chief Engineer, Mobile Units
NEP