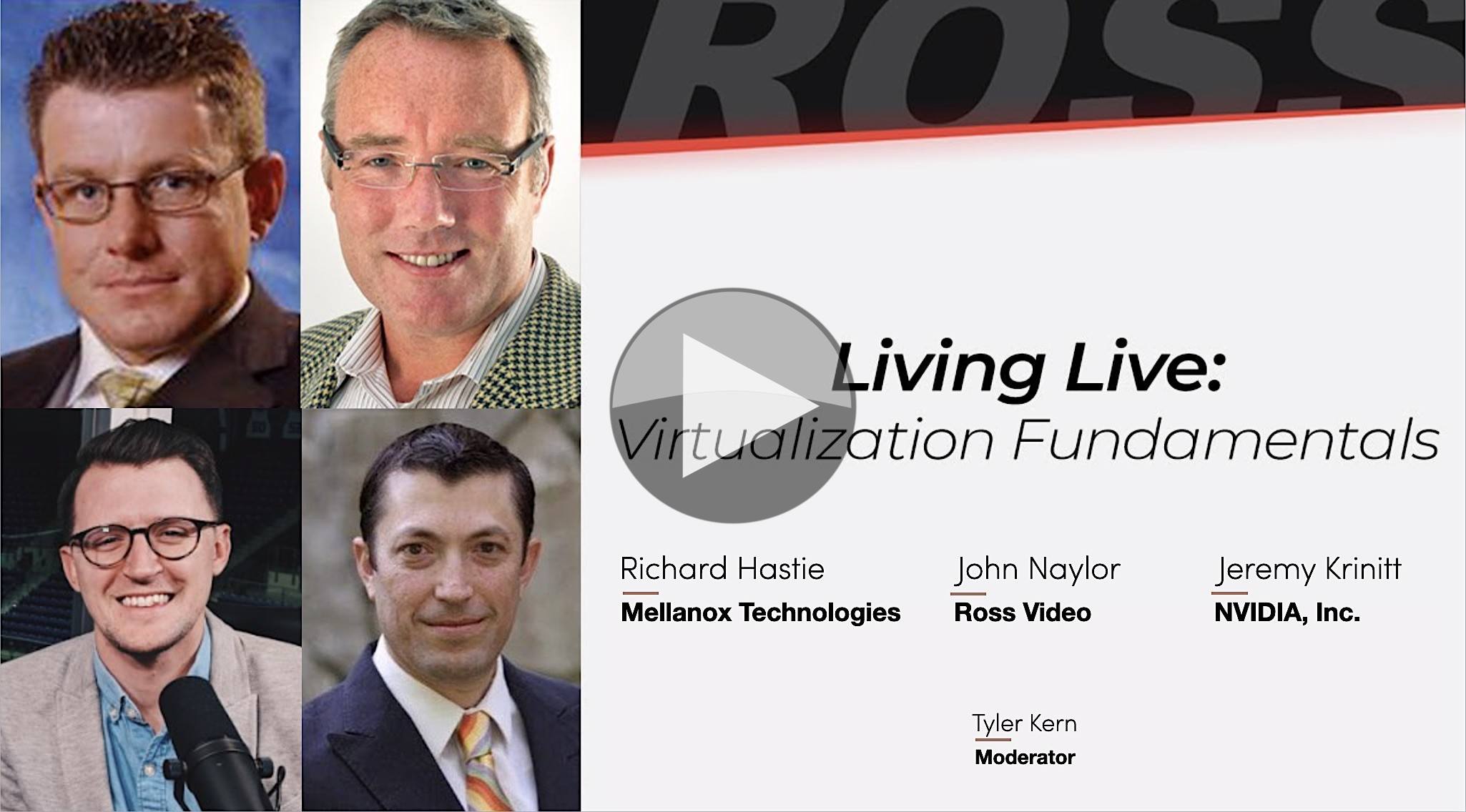 Virtualisation is continuing to be a driving factor in the modernisation of broadcast workflows both from the technical perspective of freeing functionality from bespoke hardware and from the commercial perspective of maximising ROI by increasing utilisation of infrastructure. Virtualisation itself is not new, but using it in broadcast is still new to many and the technology continues to advance to deal with modern bitrate and computation requirements.
In these two videos, Tyler Kern speaks to Mellanox's Richard Hastie, NVIDIA's Jeremy Krinitt and John Naylor from Ross Video explain how virtualisation fits with SMPTE ST 2110 and real-time video workflows.
Richard Hastie explains that the agility is the name of the game by separating the software from hardware. Suddenly your workflow, in principle can be deployed anywhere and has the freedom to move within the same infrastructure. This opens up the move to the cloud or to centralised hosting with people working remotely. One of the benefits of doing this is the ability to have a pile of servers and continually repurpose them throughout the day. Rather than have discrete boxes which only do a few tasks, often going unused, you can now have a quota of compute which is much more efficiently used so the return on investment is higher as is the overall value to the company. As an example, this principle is at the heart of Discovery's transition of Eurosport to ST 2110 and JPEG XS. They have centralised all equipment allowing for the many countries around Europe which have production facilities to produce remotely from one, heavily utilised, set of equipment.
John Naylor explains the recent advancements brought to the broadcast market in virtualisation. vMotion from VMware allows live-migration of virtual. machines without loss of performance. When you're running real-time graphics, this is really important. GPU's are also vital for graphics and video tasks. In the past, it's been difficult for VMs to have full access to GPUs, but now not only is that practical but work's happened to allow a GPU to be broken up and these reserved partitions dedicated to a VM using NVIDIA Ampere architecture.
John continues by saying that VMWare have recently focussed on the media space to allow better tuning for the hypervisor. When looking to deploy VM infrastructures, John recommends that end-users work closely with their partners to tune not only the hypervisor but the OS, NIC firmware and the BIOS itself to deliver the performance needed.
"Timing is the number one challenge to the use of virtualisation in broadcast production at the moment"
Mellanox, now part of NVIDIA, has continued improving its ConnectX network cards, according to Richard Hastie, to deal with the high-bandwidth scenarios that uncompressed production throws up. These network cards now have onboard support for ST 2110, traffic shaping and PTP. Without hardware PTP, getting 500-nanosecond-accurate timing into a VM is difficult. Mellanox also use SR-IOV, a technology which bypasses the software switch in the hypervisor, reducing I/O overhead and bringing performance close to non-virtualised performance. It does this by partitioning the PCI bus meaning one NIC can present itself multiple times to the computer and whilst the NIC is shared, the software has direct access to it. For more information on SR-IOV, have a look at this article and this summary from Microsoft.
Looking to the future, the panel sees virtualisation supporting the deployment of uncompressed ST 2110 and JPEG XS workflows enabling a growing number of virtual productions. And, for virtualisation itself, a move down from OS-level virtualisation to containerised microservices. Not only can these be more efficient but, if managed by an orchestration layer, allow for processing to move to the 'edge'. This should allow some logic to happen. much closer to the end-user at the same time as allowing the main computation to be centralised.
Watch part I and part II now!
Speakers
Tyler Kern
Moderator
John Naylor
Technology Strategist & Director of Product Security
Ross
Richard Hastie
Senior Sales Director, Business Development
NVIDIA
Jeremy Krinitt
Senior Developer Relations Manager
NVIDIA