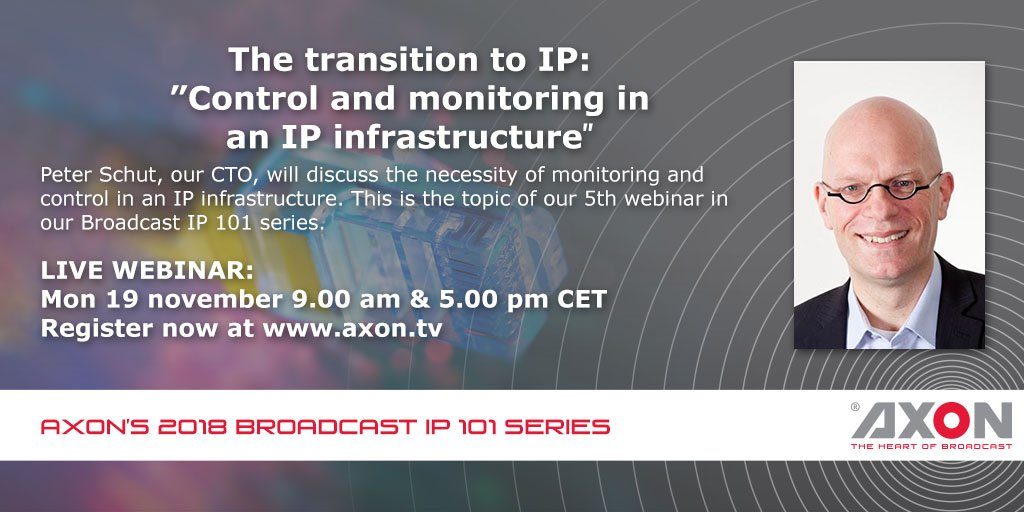 Date: Monday 19th November 2018, 08:00 GMT and again at 16:00 GMT
Axon's back with their 5th webinar in the Broadcast IP 101 series. Previously they have covered preparing for IP, the basics, Transport Formats and uncompressed vs compressed video. Now they are back to talk about control and monitoring.
The well-known 2022 and 2110 standards define transportation of video (and other essences). Like SDI-related standards, they don't describe how to control the path of signals or monitor them. Unlike SDI, however, we expect to know what's plugged in to our networks (AKA discovery) and then to control the data flow. There are proprietary and open specifications for doing this, including AMWA IS-04, IS-05 and IS-06 which deal with discovery, control and connection management.
In this webinar, CTO Peter Schut describes the lay of the land and how you can implement control and monitoring in an IP infrastructure.
The webinar happens twice. Once at 08:00 GMT (Midnight PT) and once at 16:00 GMT (11am ET).
Speaker
Peter Schut
CTO,
Axon