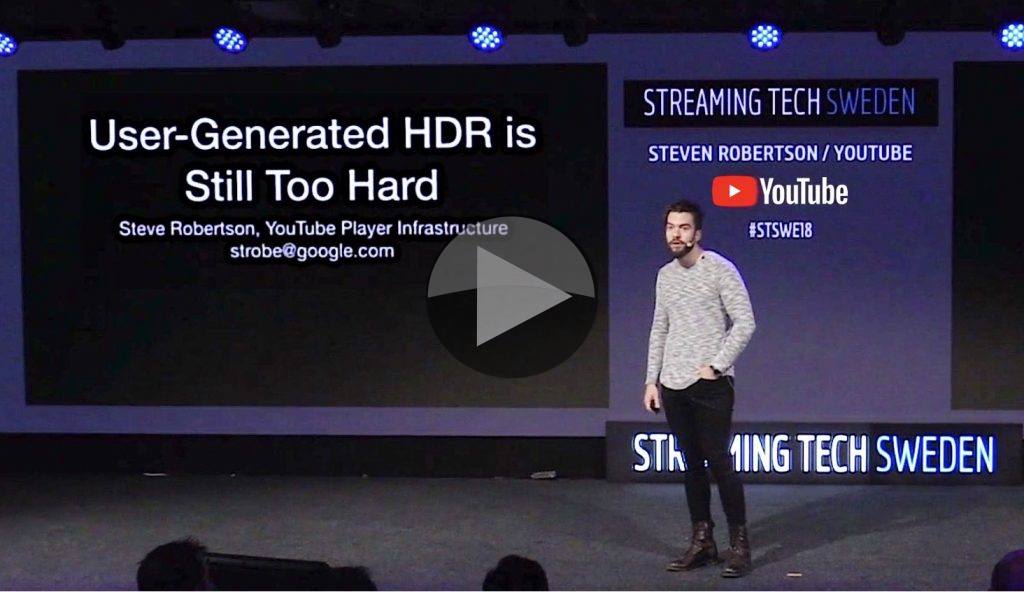 HDR and wide colour gamuts are difficult enough in professional settings – how can YouTube get it right with user-generated content?
Steven Robertson from Google explains the difficulties that YouTube has faced in dealing with HDR in both its original productions but also in terms of user generated content (UGC). These difficulties stem from the Dolby PQ way of looking at the world with fixed brightnesses and the ability to go all the way up to 10,000 nits of brightness and also from the world of wider colour gamuts with Display P3 and BT.2020 (WCG).
Viewing conditions have been a challenge right from the beginning of TV but ever more so now with screens of many different shapes and sizes being available with very varied abilities to show brightness and colour. Steven spends some time discussing the difficulty of finding a display suitable for colour grading and previewing your work on – particularly for individual users who are without a large production budget.
Interestingly, we then see that one of the biggest difficulties is in visual perception which makes colours you see after having seen bad colours look much better. HDR can deliver extremely bright and extremely wrong colours. Steven shows real examples from YouTube of where the brain has been tricked into thinking colour and brightness are correct but they clearly are not.
Whilst it's long been known that HDR and WCG are inextricably linked with human vision, this is a great insight into tackling this at scale and the research that has gone on to bring this under automated control.
Watch now!
Free registration required
This talk is from Streaming Tech Sweden, an annual conference run by Eyevinn Technology. Videos from the event are available to paid attendees but are released free of charge after several months. As with all videos on The Broadcast Knowledge, this is available free of charge after registering on the site.
Speaker
Steven Robertson
Software Engineer, YouTube Player Infrastructure
Google