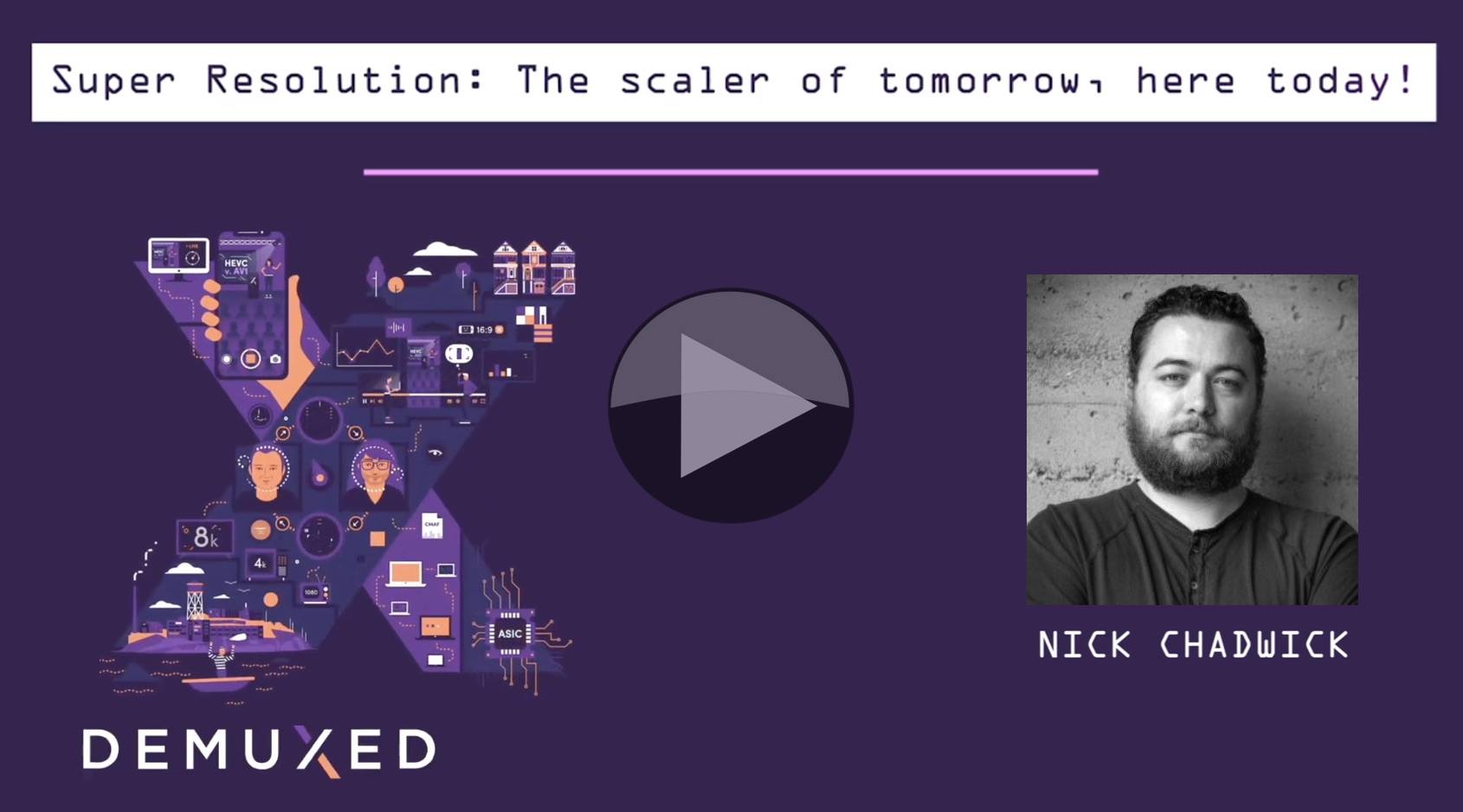 If we ever had a time when most displays were the same resolution, those days are long gone with smartphone and tablets with extremely high pixel density nestled in with laptop screens of various resolutions and 1080-line TVs which are gradually being replaced with UHD variants. This means that HD videos are nearly always being upscaled which makes 'getting upscaling right' a really worthwhile topic. The well-known basic up/downscaling algorithms have been around for a while, and even the best-performing Lanczos is well over 20 years old. The 'new kid on the block' isn't another algorithm, it's a whole technique of inferring better upscaling using machine learning called 'super resolution'.
Nick Chadwick from Mux has been running the code and the numbers to see how well super resolution works. Taking to the stage at Demuxed SF, he starts by looking at where scaling is used and what type it is. The most common algorithms are nearest neighbour, bi-cubic, bi-linear and lanczos with nearest neighbour being the most basic and least-well performing. Nick shows, using VMAF that using these for up and downscaling, that the traditional opinions of how well these algorithms perform are valid. He then introduces some test videos which are designed to let you see whether your video path is using bi-linear or bi-cubic upscaling, presenting his results of when bi-cubic can be seen (Safari on a MacBook Pro) as opposed to bi-linear (Chrome on a MacBook Pro). The test videos are available here.
In the next part of the talk, Nick digs a little deeper into how super resolution works and how he tested ffmpeg's implementation of super resolution. Though he hit some difficulties in using this young filter, he is able to present some videos and shows that they are, indeed, "better to view" meaning that the text looks sharper and is easier to see with details being more easy pick out. It's certainly possible to see some extra speckling introduced by the process, but VMAF score is around 10 points higher matching with the subjective experience.
The downsides are a very significant increase in computational power needed which limits its use in live applications plus there is a need for good, if not very good, understanding of ML concepts and coding. And, of course, it wouldn't be the online streaming community if clients weren't already being developed to do super-resolution on the decode despite most devices not being practically capable of it. So Nick finishes off his talk discussing what's in progress and papers relating to the implementation of super resolution and what it can borrow from other developing technologies.
Watch now!
Speaker
Nick Chadwick
Software Engineer,
Mux